Osechi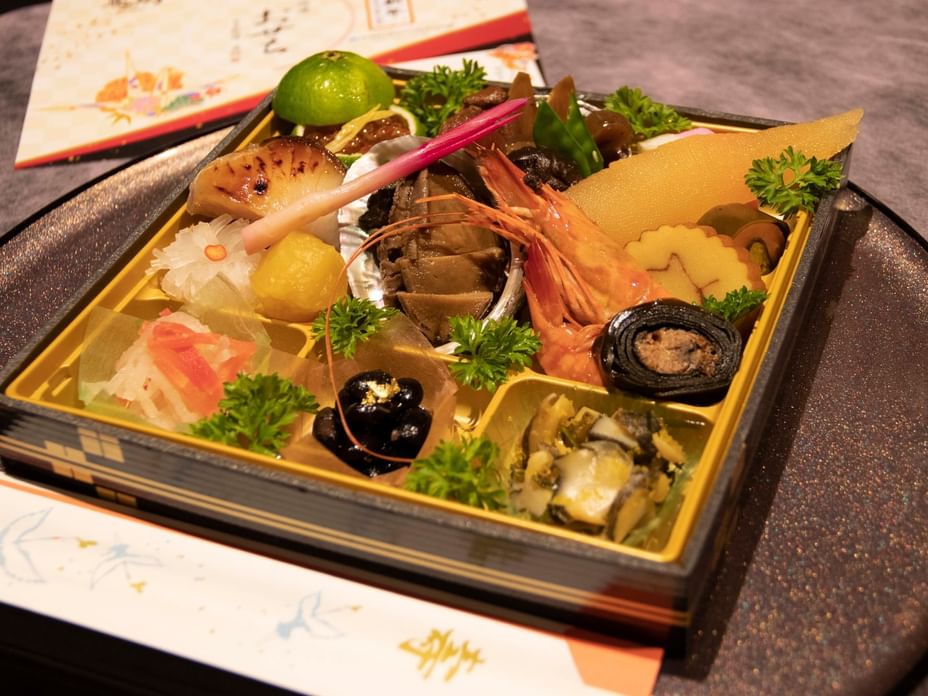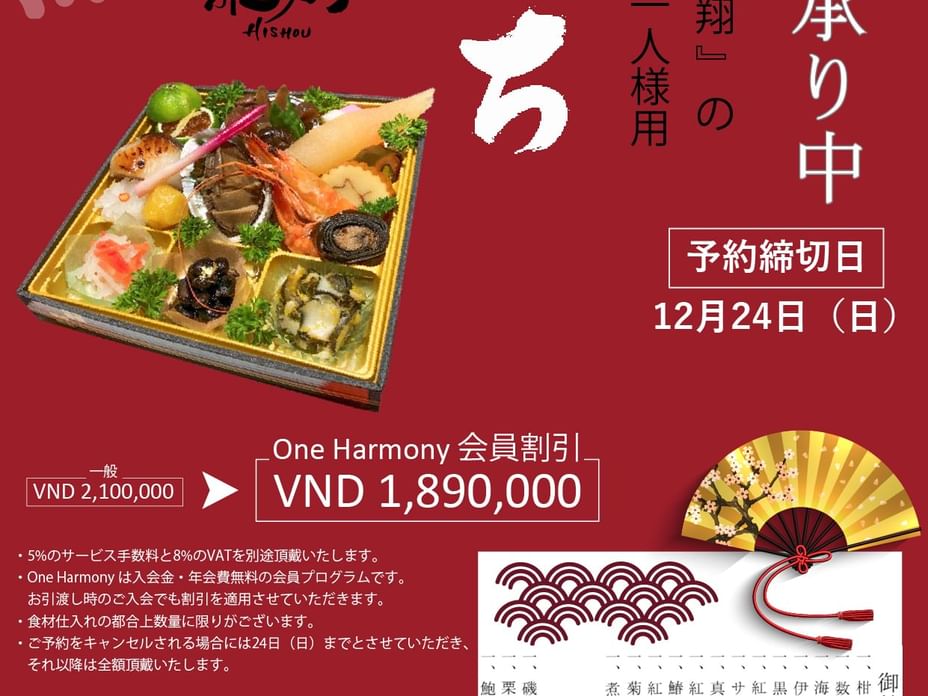 "Osechi" is a traditional Japanese dish enjoyed during the New Year, known for its beautiful presentation and rich flavors. At Nikko Haiphong Hotel, our Japanese Speciality Chef, dedicated to preserving this tradition, crafts Osechi dishes using vibrant, seasonal ingredients. This culinary offering adds a colorful touch to the significant moments of celebrating the beginning of the new year.
Price:
Regular : VND 2,100,000/box
One Harmony:VND 1,890,000/box
Detail:
- Booking time: Now - 24th Dec 2023 (Sunday)
- Delivery time : 31st Dec 2023 at 14:00 ~ 21:00
Delivery venue: Hishou restaurant - Hotel Nikko Hai Phong 2nd Floor
Note:
• One Harmony is a membership program with no sign-up or annual fees. Discounts apply even if you enroll during delivery.
• Please be aware that the quantity of food is limited based on ingredient availability.
Terms & conditions:
• Rates are inclusive of 5% service charge and 8% VAT.
• Cancelation Policy: Any Cancellation is required to inform the hotel before 24th Dec 2023 to avoid full penalty.
For reservation and inquiry (office hours)
- 0906 272 830 / 0904 262 806 / 0976 350 835 (English & Vietnamese)
- 0899 161 594 (Japanese)
- OR hotline: +84 2253 265 666 (out of office hours)
Hotel Nikko Hai Phong
No. 1, Road 1, Waterfront City, Vinh Niem Ward, Le Chan District, Hai Phong City, Vietnam
Tel: +84 2253 265 666
Email: info@hotelnikkohaiphong.com.vn
www.hotelnikkohaiphong.com.vn